Spring Program 2016
Bus Ministry Promotion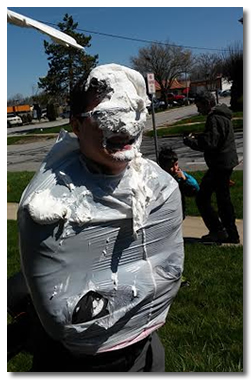 Things We Do For Bus Kids!
Our annual Spring Program 2016 ran from March 6-27. 
This is a time when we all make an extra effort to invite more people along to Sunday School each week.
Every first time visitor who attended Sunday School had a chance to spin the prize wheel for an opportunity to win a variety of rewards - cash, gift cards, etc. 
The person who invited that visitor got a chance to spin the wheel too!  It's a part of the program the whole church enjoys. 

In addition, we are always looking for new bus ministry ideas to encourage the young people to participate and invite their friends and family to come along to church with them.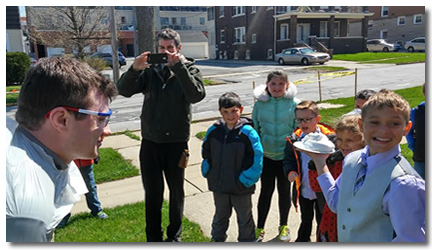 Taking Aim At Bro. Dusty!
This year we decided to reward the bus kids with points for attendance, bringing visitors, etc.  The kids with the most points during the promotion would get a chance to throw a pie in the face of Bro. Dusty!
The kids did a really great job, and the competition was fierce.  By the end of the Spring Program we had four kids tied on the same number of points.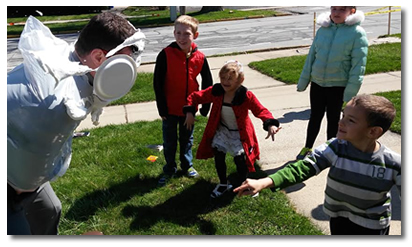 Right On Target!
Of course, the only solution was for Bro. Dusty to get FOUR pies in the face!  Boy was it messy!!! But a whole LOT of fun!!!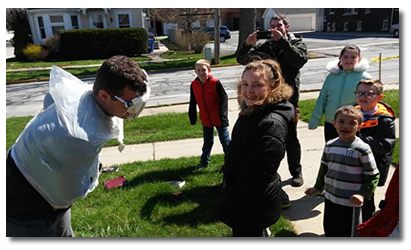 Pie In The Face Fun!
The kids worked so hard to earn their points, and we had four first time visitors, including a mom and a dad that came along to see what all the hype was about! 
What's really great is that two of those visitors are now attending regularly and we've planted many seeds around the neighborhood!
God is so good...we can't wait to see how He uses the bus ministry going forward!
Who knows?  There might be a future pastor or missionary riding the bus right now!