Upcoming Events at Southlake Fundamental Baptist Church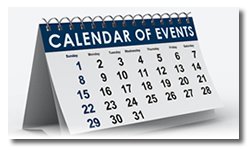 There is always something going on at Southlake Fundamental Baptist Church!
You'll find the latest news, announcements, and upcoming events listed here.
If you want to keep up-to-date with all the latest goings on, subscribe to the church blog/RSS feed - just click on the little orange button at the left.
August Birthdays & Anniversaries
Best wishes to everyone celebrating a birthday or anniversary this month.

2nd John and Nancy
3rd Don and Angie Berg
4th Maddyson Cohen
5th Don Sixt
11th Eric and Kim
11th Kevin and Maria Spink
11th Anny Wilson
15th Eric Porter
17th Simone Stevens
18th Walter and Simone Stevens
21st Paul and Jolie Sock
23rd Mike and Heather Gross
23rd George and Barb Zarris
25th Dan and Kelly
26th Zach
27th Mike Marsh
29th Curtis and Ashley
31st Caelyn Sixt
31st Carson Sixt
31st Angie Berg
31st Mike and Hazel Marsh

The birthday fellowship will be on the 14th and will be hosted by Vickie.