Upcoming Events at Southlake Fundamental Baptist Church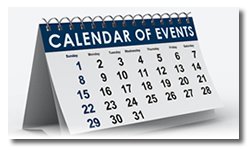 There is always something going on at Southlake Fundamental Baptist Church!
You'll find the latest news, announcements, and upcoming events listed here.
If you want to keep up-to-date with all the latest goings on, subscribe to the church blog/RSS feed - just click on the little orange button at the left.
December Dates To Remember
December 5 - Evangelist Jake D'andrea will be speaking all day


December 12 - Our annual business meeting will be after the evening service and will be followed by a men's fellowship at Raymond's


December 18 - Cookie Exchange at 2:00 pm (Sign up on the bulletin board at church if interested.)


December 18 - Christmas Caroling at 3:00 pm (Sign up to make homemade goodies for our elderly - Seven visits)


December 19 - Puppet Christmas Program 6:00 pm


Schedule changes - No King's Kids on December 22 or 29. No evening service on December 26.


December 31 - Midweek service will be Friday at 7:00 pm. Christmas Party after the service. Pizza provided. Please bring drinks, snacks, dessert, and $5 value gift exchange for your age group. Games, prizes, and fun!