SFBC Missionaries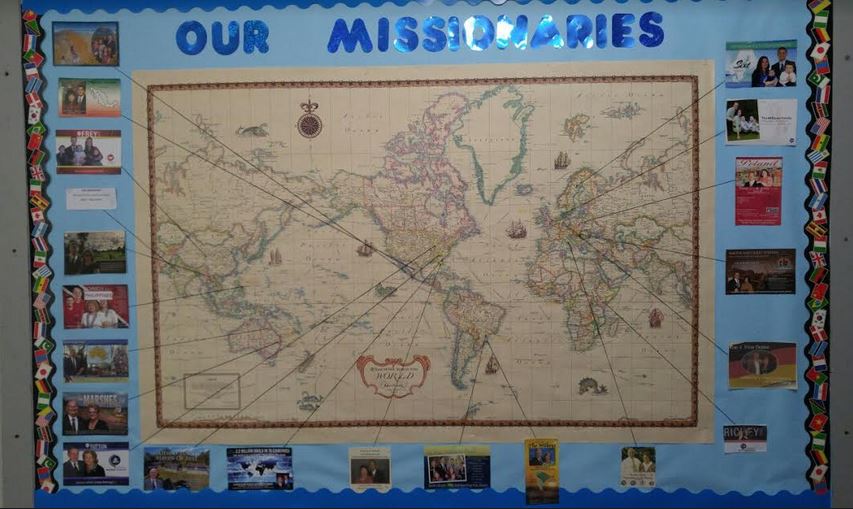 Mark 16:15 And he said unto them, Go ye into all the world, and preach the gospel to every creature.
At Southlake Fundamental Baptist Church we believe in the importance of helping to carry out the great commission, not only on our own doorsteps, but throughout the world.
Because of this command of our Savior, we try to help as many missionaries as we can to spread the good news of salvation across the globe. 
We help with financial support and prayer support, enabling others to go where we can not all go. 
Philippians 4:17
Not because I desire a gift: but I desire fruit that may abound to your account.


Our first obligation is to share the Gospel of Jesus Christ to our own friends, family, and neighbors. 
In addition, we can reach those in the regions beyond us (II Corinthians 10:16) by helping those whom God has sent to those farther flung areas. 
Praying and giving is not without reward.  While we are being a blessing to others, God promises a blessing to us in return.  We are all laborers together with Christ and fellow servants in His amazing work. 


Meet Our Missionaries:
Africa
Brazil
Dave & Dawn Whitmore

(Jonathan, Nathan, Timothy, Marlene, and Zachary)
Germany
Italy
Philippines
Australia
Don & Angie Berg


Mike & Hazel Marsh
China
Steven & Megan Frey


(Matthew, Esther, Seth, and Cherith)
Hungary & Romania
Laos
John & Kristen Rea


(Charity and Anna)
Poland
Sweden
Don & Beverly Sixt


(Landon and Laban)



Bolivia
Xavier & Rebecca Lopez

(Abigail and Alyssa)



England
Justin & Holly Williams

(David, Jonathan, Nathan, and Samuel)
India
Mexico
Kevin & Maria Spink
(Rachel, Rebekah, Ruth and Roselyn)



Robert & Anny Wilson

(Robert II, Veronica, and Rosalinda)
USA